The Homeschooling Mothers Bible Study - Encouragement for Women Who Homeschool (Video)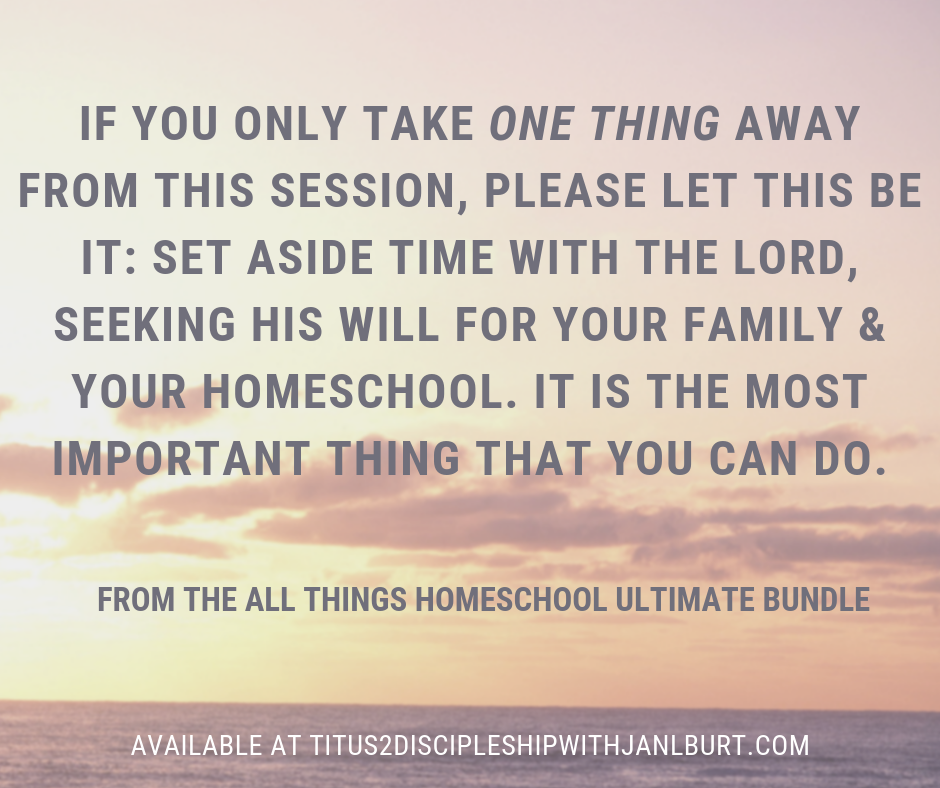 What To Expect From This Video Session
Starting at about the 1 minute 40 second mark of the video, I will begin sharing huge doses of encouragement with a Biblical foundation upon which you can continue to build your family's homeschool. Below are a few key points that are covered more in-depth in the video. (And be sure to watch the video starting at the 1:40-ish mark...I pray for my fellow homeschooling moms and I'd love for you to be "prayed over" as you start this lesson!)
Moms need preparation, just like the kids do. And God's prep for us can be very uncomfortable for us! His preparation can seem much more like a boot camp than a conference session with a free coffee bar. But He would not run us through such rigorous prep times if He did not think it would be the most beneficial course of action.
We shouldn't really expect all of our equipping to feel comfortable...I know that smarts a bit, but nevertheless, it's still true.
You're in truly great company if you feel ill-equipped to be a homeschooling mom. Moses - Gideon - Esther - Jeremiah - Peter...they surely felt under-prepared & unqualified to do what God had called them to do!
Whenever you feel that way, let it be the catalyst that propels you to Jesus over & over again & just cling to Him. (That's the best place to live anyway, isn't it? Clinging to Jesus for dear life?!)
Your preparation won't always happen before you are in the firefight, either. The best prep God has for us often occurs in our hearts & minds right there on the hardest...day...ever. It does not always happen in advance of the intense struggle. So if that proves true in your life, don't be surprised!
God reserves the right to do the right work at the right time in His ideal time frame. He does not have to wait until we are ready for Him to begin His work in us or on us! So don't be shocked when He asks you to homeschool before you feel ready to homeschool! That's totally normal!
Just decide to trust Him. He knows what He is doing!
Don't feel guilty about homeschooling, my dear friend. Instead, realize that this is a ministry. You are a disciple-maker. You are training Christ-followers and preparing them for God's will & ways. You should feel ZERO guilt about that!
And also, realize that, like any other Christian ministry, there will always be those people who just do not get it...and that's okay! Let that go and focus on running your race, the race God has set before you to run. Nobody can run it but you - so don't let someone not running your race become your coach!
Now it's time to talk about a Scope & Sequence...and not for your kiddos, but for you as the homeschooling mother. You need a vision & you need wisdom & you need to get both of those things directly from the Lord. Go to Him and ask what His will is for your family & your homeschool.
Don't make the mistake of beginning to homeschool because it is God's will and then continue homeschooling in your own strength & will power. Walk this path with Him - don't leave Him out of the biggest thing you're doing in your family!
Choose a specific date and time (make an appointment with God) and spend that time seeking His will for your life, your children, your homeschool. Talk to Him & then listen quietly. Have a pen and notebook and write things down to look back upon later. Trust me, you won't regret this time spent with the Lord!
We need to stop neglecting setting time apart to hear what He wants to say to us.
After all, has He not promised to supply all our needs? And do we not need His wisdom and grace and favor and guidance and blessing over our kids and our homeschools? So meet with Him and listen to Him :)
Home education is more than just one educational choice or option among many equal choices. It is a call from the Lord! Your enemy understands the true value of home education - why do you thing you feel so harassed and haggard and stressed and maxed out so much of the time? Because your enemy, the devil, is coming after you! He hates it when God's people obey Him and lay down their lives to raise up a godly generation. And what he hates, he attacks.
The end goal really is to raise up godly men & women who are willing to do Kingdom work & to live for Jesus. So don't be shocked when satan comes knocking - expect him to come against you. But expect him to flee at the name of Jesus! Pursue & stick close to the Lord - He will fulfill His purposes for your family & your homeschool.
Now I want to talk about what I refer to as "The Joshua 5:12 Principle" ~~~
In the New Living Translation, Joshua 5:12 reads: "No manna appeared on the day they first ate from the crops of the land, and it was never seen again. So from that time on the Israelites ate from the crops of Canaan."
Sometimes we get confused when the Lord's provision changes - when it goes from the manna we are used to and changes to something else. Remember, though, that the Lord will provide exactly what we need in the exact amount we need it, but only until He knows we are no longer in need of it.
God is going to take care of you and your family. Not just care - but good & careful care! So do not be afraid of some type of change. Never, ever forget that waste is just not a part of God's economy! A change in provision is the right thing at the right time or He would not allow that change to come into your life!
And another thing I need to mention to those moms who worry they've done too much damage, made too many mistakes, messes up one too many times..God is seated firmly on His throne and my worst mistakes and mess-ups cannot unseat Him! Don't convince yourself, or allow the enemy to tell you (by means of his standard tools of guilt & shame) that you have the power to undo what God has planned to complete & accomplish in your child's life. I love you too much not to boldly remind you of this truth: you do not now, nor will you ever, have that kind of power! He is our established King - your mistakes don't force His abdication of the throne.
Whenever things start to get to you in your homeschooling world, remember that you do not know what you need as much as God knows what you need. What we need often gets confused with what we want...but if you seek Him, yield the right-of-way to Him, and trust Him, you won't be on the receiving end of what you don't really need from Him.
He is God. And He alone is good. He is also very, very good at being God. Trust Him singularly as He moves you out of one season and into a new one. It's okay. He's got this & He's got you!
And a key reminder for you today is this:
The end is better than the beginning (see Ecc. 7:8) & never, ever despise the small beginnings (see Zech. 4:10)
Begin right where you are at today. Preschool? Great! Start there! Totally botched science last year? Start anew & don't despise the new start! Start where you are and watch to see what God will do!
It does not matter where you are in the process as much as it matters for you to bear in mind that God's end is going to be better than the beginning. That's truth from the Word of God, so stand on it by faith.
Start where you are & move forward with the Lord. If you are walking forward with God, then you will get where He wants you to go when He wants you to get there. The only way you won't get where He wants you to go is if you sit down and refuse to walk with Jesus.
Trust that He is going to finish what He started and He will bring good fruit to bear in due season.
Let me leave you with this - the book of Revelation tells us that when Jesus returns He will come bearing the names "Faithful & True" on His thigh. Aren't we surely safe placing our total trust in the One whose tattooed name is "Faithful & True"? Indeed, He is trustworthy!
He is going to bless your homeschool!
Gingham Pattern Letterhead.pdf